New Patients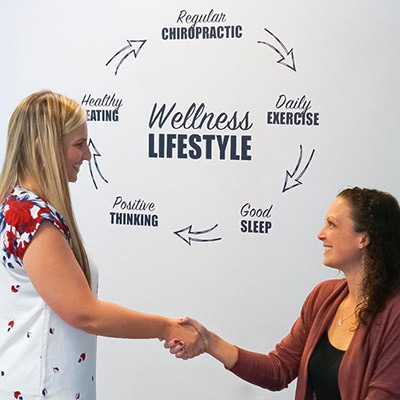 From newborns and children to pregnant women, and entire families looking for corrective care, we are happy you've decided to begin your journey toward wellness. With a variety of services, we will help you and your loved ones get on track and stay on track!
ONLINE FORMS »


Your First Visit
Our friendly team will greet you and show you around our office so you can see all that our family-friendly practice can offer. In addition, we'll talk with you about what chiropractic care is all about. While many are surprised it goes beyond healing aches and pains, we'll show you firsthand all that it can help with!
Paperwork. All of the initial forms can be found on our website. Just bring the completed forms with you when you visit!
Posture Screen. Next, we'll take a picture of your posture and explain how posture is related to your overall health. You'll receive a report you can take home with you from the scan.
Consultation. Your chiropractor will discuss your health goals and learn more about what brought you in for care. By understanding your specific goals, we can focus on achieving them.
Examination. We'll go through a thorough examination, recommending X-rays and additional testing when necessary.
Please plan on being here for about 45 minutes to one hour on this visit.
When you return, you'll sit down with your chiropractor to discuss your first visit.
Examination Results. We will review your exam results and any additional test results.
Doctor's Recommendation. If care is right for you, your chiropractor will provide you with a plan of action to help you reach your optimal health and achieve your wellness goals.
Typically, you can expect this brief visit to last around 20 minutes. Reexaminations will be done on a regular basis to check your progress.
We believe that nutrition and exercise play a vital role in helping you achieve optimal health and wellness. When you become a patient, nutrition and exercise advice is included in your care plan for you to take advantage of. You will get a nutrition information packet from us to fill out, so we can review your nutrition with you and talk to you about exercise.
Schedule an Appointment
Are you ready to take charge of your health and live better? Learn more about how our services can help and schedule an appointment to get started!
CONTACT US »
---
New Patients | (727) 623-0992